This is meant to be funny I guess, but it's the sad destruction by psychology (including the "biblical" counseling/integration hybrid which attempts to blend psychology with Scripture). Slander and tail-bearing, especially against a biblical Christian (when they tell the truth) is sinful and cannot help a person be sanctified. It is anti-biblical. Blessedly God avenges those who afflict and persecute His own, in His due time (2 Thes 1:5-7).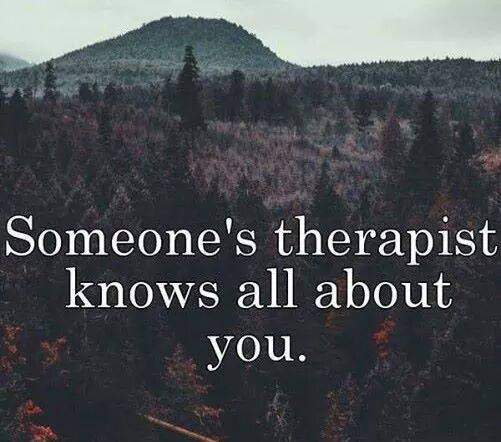 Eph 4:29
Let no unwholesome word proceed from your mouth, but only such a word as is good for edification according to the need of the moment, so that it will give grace to those who hear.
Eph 4:30
Do not grieve the Holy Spirit of God,
by whom you were sealed for the day of redemption.
Eph 4:31
Let all bitterness and wrath and anger and clamor and slander be put away from you, along with all malice.
Eph 4:32 Be kind to one another, tender-hearted,
forgiving each other, just as God in Christ also has forgiven you.
The biblical way to deal with sin issues is simply to pray, read Scripture, and go to that person.
Mat 18:15 "
If your brother sins, go and show him his fault in private
; if he listens to you, you have won your brother.
Mat 18:16 "But if he does not listen to you, take one or two more with you, so that BY THE MOUTH OF TWO OR THREE WITNESSES EVERY FACT MAY BE CONFIRMED.
Mat 18:17 "If he refuses to listen to them, tell it to the church; and if he refuses to listen even to the church, let him be to you as a Gentile and a tax collector.
If it's just a matter of a personal preference or quirk that isn't sin, we're to bear with them in love:
Eph 4:1 Therefore I, the prisoner of the Lord, implore you to walk in a manner worthy of the calling with which you have been called,
Eph 4:2 with all humility and gentleness, with patience, showing tolerance for one another in love,
Eph 4:3 being diligent to preserve the unity of the Spirit in the bond of peace.
Of course all this is predicated upon the sound doctrine of the sufficiency of Scripture in all things pertaining to life and godliness and its prohibition against psychology(Eph. 4:17-21, Col. 2-3, Rom. 12:2, Ps 1:1-3, Ps 119).